It was a little busy, a little messy, kind of crazy, and somewhat less than stellar.
Suffice to say that we closed out the day with a screaming, inconsolable baby (she developed raw skin in her neck folds from spitup, we finally discovered :( Mom of the Year, here.) and Trav in a tiff with Office Depot because they have perhaps some of the worst customer service ever. In the whole world.
This morning I had my "pyro-tractor" (as Jax likes to say) appointment, where we went over my x-rays and determined that my tailbone pain that is so bad I can't sit much at all is caused by several things. He says it all stems from the fact that my neck has no curve whatsoever, probably from the 5 car accidents I have been in, and because the curve in my lower back is super exaggerated and my L5 vertebrae is practically crushed the bones are such a mess down there. He said it looks like the back of a much older person, and my disc space is very small for someone my age. Lovely. So I'll be seeing him quite often for the foreseeable future. I just started going last week though and I will say it's markedly better, for sure.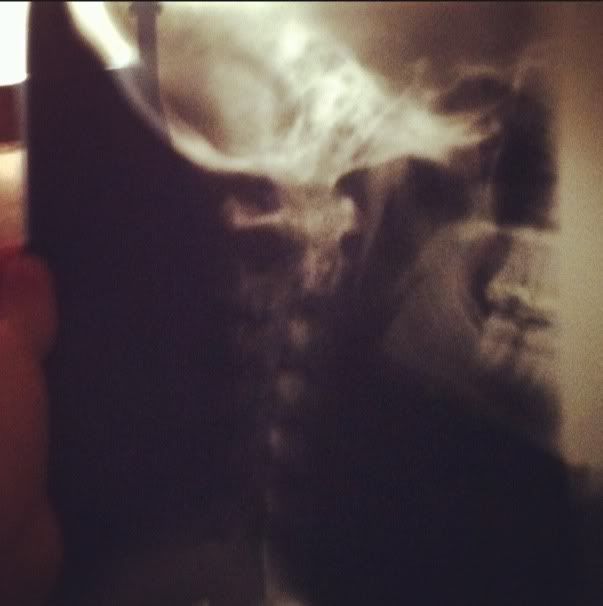 After that, we went thrifting at Goodwill. Jax found a couple things he LOVED.
And so did I! My haul included a long sleeve A&F polo for Trav, 5 sleepers & 2 shirts for Jory, the train shelf, 2 cute vintagey coffee cups, and a trinket shelf I plan to pretty up and put in Jory's room for little doodads that she collects. :)
We grabbed Sonic for lunch and came home. Jax didn't eat anything all day until dinner, I'm so sick of fighting that battle. Maybe I should just let him not eat if he doesn't want to? I don't know what to do at this point. Jory crashed out and Jax and I sang songs and read books (the boy is seriously obsessed with "the fwee bears!" at the moment).
I cleaned my horribly messy house and did work, then started dinner while wearing Jory. (Don't worry, I know it looks like I'm holding her over the stove, but I totally wasn't; she is flat against my chest in that thing. She doesn't get burned, I promise.)
Marlee introduced me to this fabulous pasta sauce a while back and I LOVE it. I threw it in a pan with some ground beef and rigatoni pasta and cooked some green beans on the side. Easiest dinner ever.
Jory got hiccups while our boys were gone to Office Depot, and cried until well after they got home (which I later discovered the reason for, as I said.) She really gets hiccups every.single.time. she eats though, and totally hates them:
How was your Monday? Did it live up to its name?